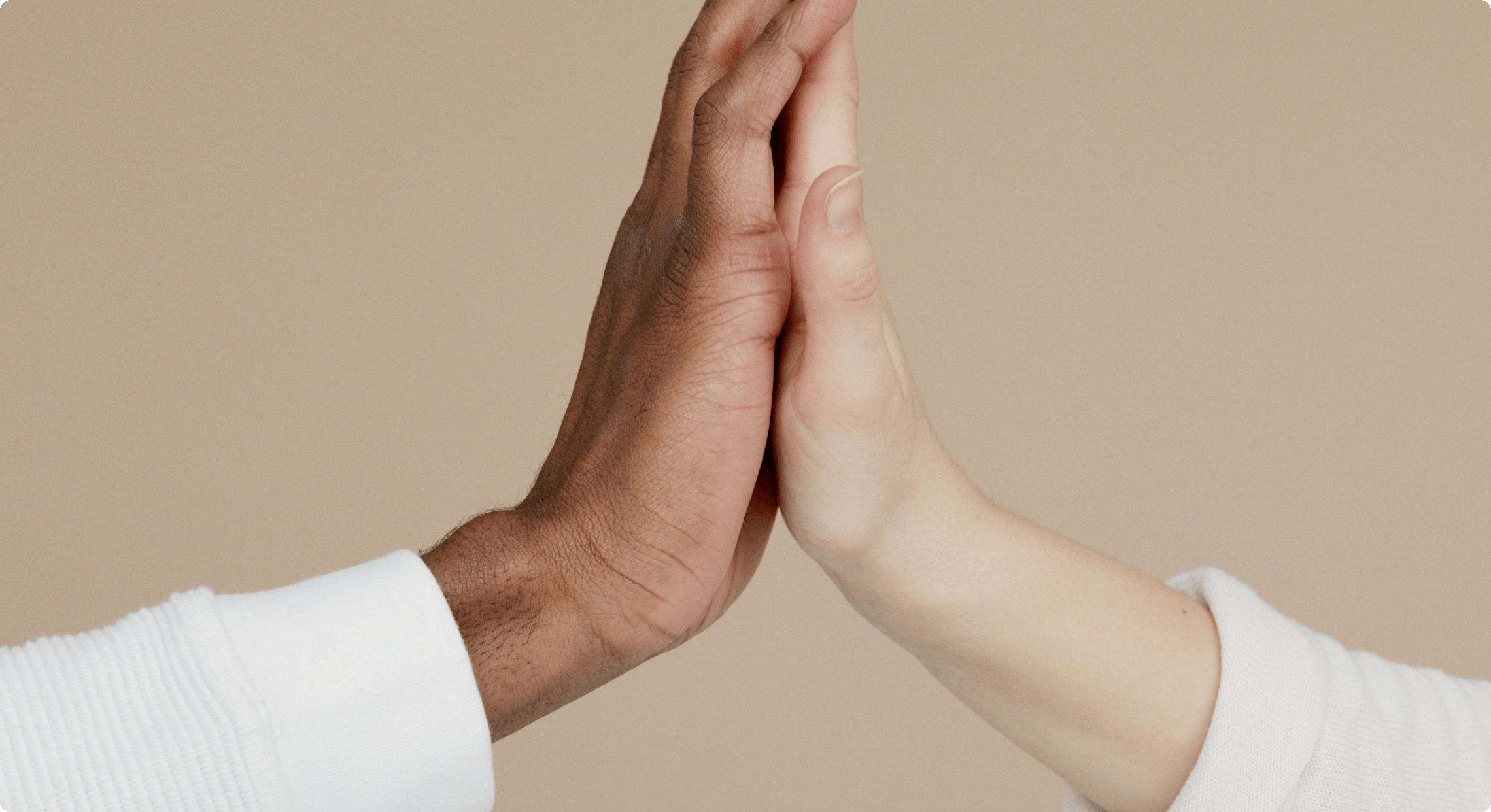 At Frankie, we set out to create a business driven by social good. We wanted to build a different system for employee mental healthcare – one that would empower the best from our community of members, and have a positive social impact on the world. That's what Frankie's Giveback is all about.
How would you sum it up?
Employers pay Frankie a monthly membership fee for each employee to have access to mental health providers. Frankie takes a flat fee to run everything and pays providers with the remaining pool of funds. If employees don't need support from Frankie's community of providers, Frankie gives the leftover funds to causes that the employees care about.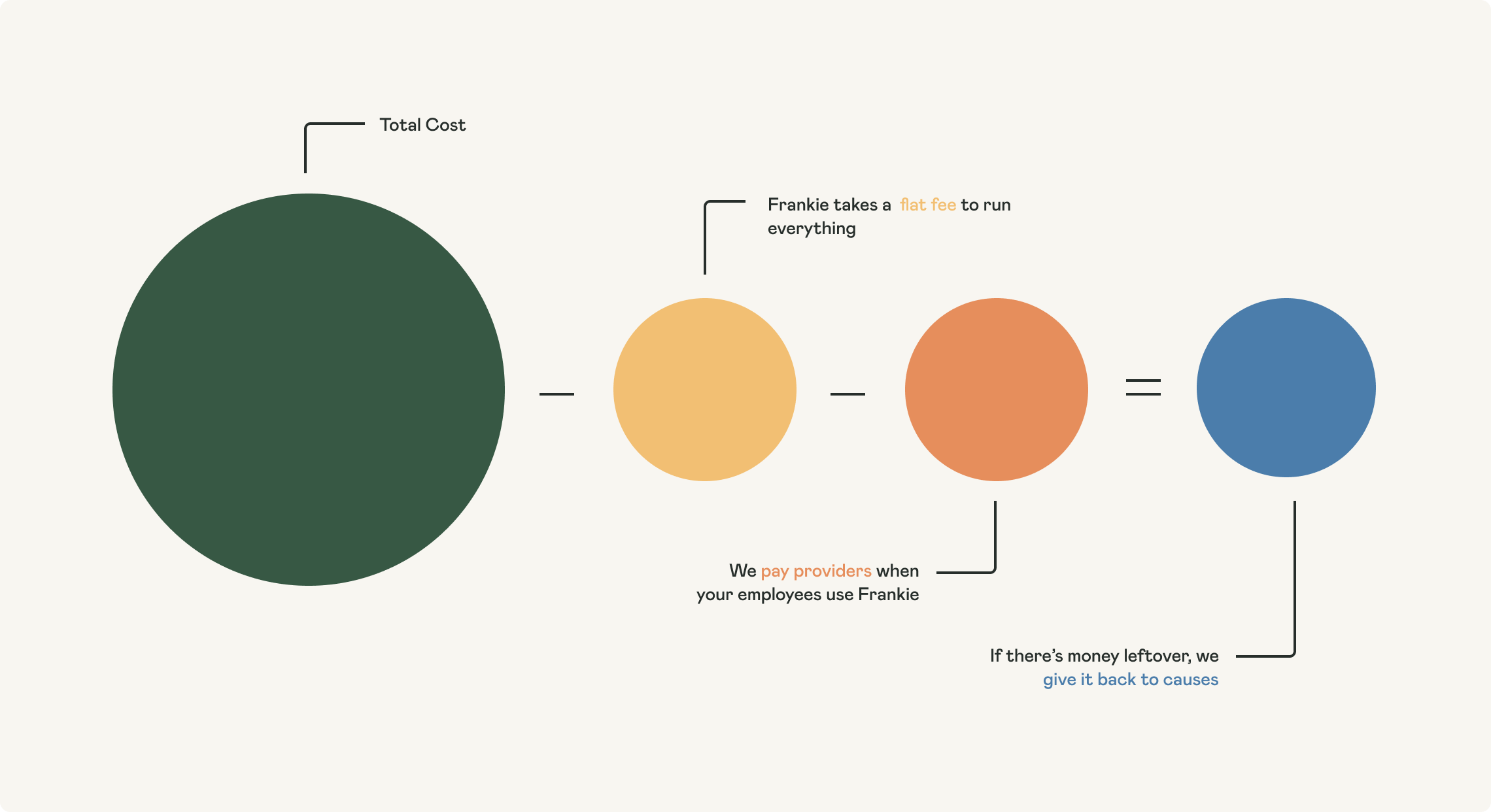 Want to dive deeper?
How does Giveback make Frankie different?
How does Giveback actually work?
What causes does Frankie Giveback to?
How Giveback Makes Frankie Different
Our Giveback program does more than just allow Frankie's members to support causes they care about. It also changes the relationship between you (a valued Frankie member) and us (the EAP), by aligning our interests and values.
Traditionally, EAP programs make money by keeping the number of hours of therapy received by employees as low as possible. Every euro the EAP pays out in hours of therapy is a euro less to the EAP's bottom line. This creates an inherent conflict of interest between EAPs and their members.
Frankie is different. By taking a flat fee and using the rest to pay for therapy, we're never in conflict with our members. If there are leftover funds, because members maintain positive mental health, it goes to charities chosen by Frankie's members. Giveback is built into our business model.
Giveback means we'll never be in a position where we're deciding between making money and getting the right mental health support to our members. There's no conflict of interest. Frankie is committed to getting the right support at the right time to its members while making a positive impact on the world.
When your unused euros go to charity, it's not an extra payment from your pocket. It's simply due to the good working environment that you have created for your employees. Your unused euros rollover to make a difference for communities and causes that you care about. 
How does the Giveback actually work
Every June Frankie gives funds to causes its members are passionate about.
When a new member signs up for Frankie, we ask them to choose their 'Giveback' cause. Members choosing the same cause form a 'virtual group' behind the scenes, a monthly subscription covers all therapy, and we give all leftover money directly to their chosen cause.
In our first year, we're aiming for slightly over 10% of our revenue to go to the Giveback. As a point of reference, the Fortune 100 give 0.08% of their revenues each year. So if year-one is anything to go by, Frankie's Giveback has the potential to rapidly increase that benchmark. Time will tell, but it's an objective that we are passionate about.
We think of Giveback as a social contract among our community, where the size and allocation is determined not by our big profits or big hearts, but by the positive mental health that we can support within our community.
As you'd expect, the right mental healthcare for our members is varied. Some individuals are looking for regular therapy, whilst others are not. During times when therapists are not being used frequently, up to 30% of the subscription goes towards Giveback, and during times when therapists are used frequently, less is leftover for Giveback.  Our model recognises that not every company will be part of Giveback each year. Either way, as a member of Frankie's community, you're a part of our positive impact.
Social impact is a guiding value at Frankie. Our goal is not only to make mental healthcare easy, personalised, and effective – but also a social good. We want to make it easy for our members to make a positive impact.
The causes Frankie's Giveback donates to 
Define the causes:
·   Homelessness
·   Climate change
·   Mental health
·   Covid-19
·   Education
·   LGBTQ+
·   Cancer research